THE WONDER OF AGING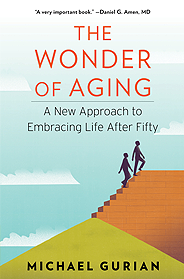 THE WONDER OF AGING
A New Approach to Embracing Life after Fifty
New York Times bestselling author Michael Gurian offers a comprehensive look at the emotional, spiritual, and cognitive dimensions of life after fifty in THE WONDER OF AGING (Atria Books; June 18, 2013; $26.00). Called "the people's philosopher" for his ability to apply scientific ideas to our ordinary lives, Gurian, author of 28 books, sees our second half of life as an enormously fruitful, exciting, and fulfilling time.
Drawing on scientific research as well as anecdotes that respond to the needs of his many clients, he goes beyond the physical-centered view of aging and presents a new, holistic paradigm for embracing opportunities that come with life after fifty. The Wonder of Aging focuses on the physical, mental, relational, and spiritual aspects of aging, discussing topics such as sex, how men and women age differently, effects of aging on the brain, living with a sense of legacy and purpose, becoming an elder, and how to peacefully navigate the last chapter of life.
The book divides life after fifty into three stages:
The Age of Transformation, from our late forties to mid sixties
The Age of Distinction, from sixty-five to eighty
The Age of Completion, which involves completing one's life journey.
In addition, this essential guide provides meditations and exercises to help readers map out the aging process and case histories from Gurian's research and experience as a therapist. Written with Gurian's courageously optimistic outlook on life, The Wonder of Aging provides a full, constructive, and comforting road map to what to expect—and how to celebrate—the second half of your life.
Listen to Michael Gurian & Michele Woodward on blogtalkradio.com The Wonder of Aging: Working Life After 50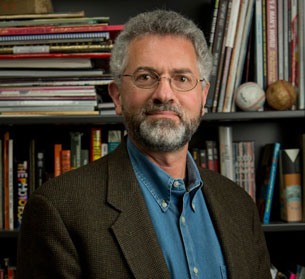 MICHAEL GURIAN is a New York Times best-selling author of twenty eight books, including The Wonder of Boys, The Wonder of Girls, and What Could He Be Thinking? He has been featured multiple times in nearly all the major media, including the New York Times, the Washington Post, USA Today, Newsweek, Time, The Today Show, Good Morning America, National Public Radio, The 700 Club, and many others.
"This powerful book helps both women and men age gracefully. Michael's book is encouraging, well-researched and beautifully written. It is a practical guide to designing and living the second half of life with courage and fresh meaning. Read this book, and you will experience aging in a whole new way."
Gregory Jantz
Ph.D., Founder, the Center for Counseling and Health Resources, and Author of Overcoming Anxiety, Worry, and Fear
"The Wonder of Aging is amazing in its scope and depth. It reflects an enormous amount of work and insight. The practical parts of the book help us do what we need to do to live well. The prayerful parts of the book elicit a sense of gratefulness as we move through the stages of age. I highly recommend this book!"
Rabbi Henry Glazer
author of I Thank Therefore I Am
"Every time you open a Michael Gurian book, you know you are in for an adventure.  Michael's powerful new book, The Wonder of Aging, is no exception. As he has done in all of his books, Michael uses his expertise, practical experience, and heart to open us up to the wonder of who we are becoming. The Wonder of Aging provides a practical, spiritual, and inspirational primer for high impact living, geared to those of us speeding past 50 and beyond."
Rev. Tim Wright
Pastor, Community of Grace Church, and author of Searching for Tom Sawyer
"The Wonder of Aging is both a practical and spiritual journey. For those of us working to enhance men's health, the book is very welcome--it has specific sections applicable to both women and men. I highly recommend this book to anyone fifty or older, and even those of you getting close!"
Ronald K. Henry,
President, The Men's Health Network
"Michael Gurian explores new territory in The Wonder of Aging by combining patient stories and experiences from his rich professional and personal lives to create an authentic and insightful work. In his terrific new book, Michael does what he does best....exploring the depth of the human spirit."
Nancy L. Snyderman
M.D., NBC News Chief Medical Editor
"Engaging...taking 50 as his starting point, Gurian offers concrete examples of ways to deal with the problems of aging."
Kirkus Reviews
The Wonder of Aging has been called a Best Book for People Over 50 by the Huffington Post.
Huffington Post
"The Wonder of Aging is an impressive achievement and a must read for anyone who is over fifty, caring for or caring about someone over fifty---and the rest of us who hope to reach our fifties and beyond both enlightened by modern science and touched by the magnificent grace of empathy."
William S. Pollack
Ph.D., Associate Clinical Professor, Department of Psychiatry, Harvard Medical School; Senior Consultant, McLean Hospital and Cambridge Health Alliance
"The Wonder of Aging is a very important book.  It is filled with practical tips, solid science and stories that will inspire and motivate you.  With 11,000 people turning 60 every day, we can no longer avoid talking about aging…so we might as well embrace it with wonder."
Daniel G. Amen
M.D., New York Times bestselling author of Use Your Brain to Change Your Age
In our ageist culture, you've got to love a book with the title The Wonder of Aging. Because here's the big secret that almost no one appreciates.  Life really can get richer and better with age. You just have to approach it in the right frame of mind. And that is exactly what Gurian provides for all of us in this brilliant book.
Christiane Northrup
M.D., author of The Wisdom of Menopause
"This book opens much-needed discussion on aging and dying…and will give readers the means to approach these topics with their families and friends. Gurian has an optimistic, energizing, and sympathetic voice that will inspire readers as they seek guidance on their journeys through life."
Publishers Weekly
June 2013