THE MINDS OF BOYS AND GIRLS: A BRAIN BASED APPROACH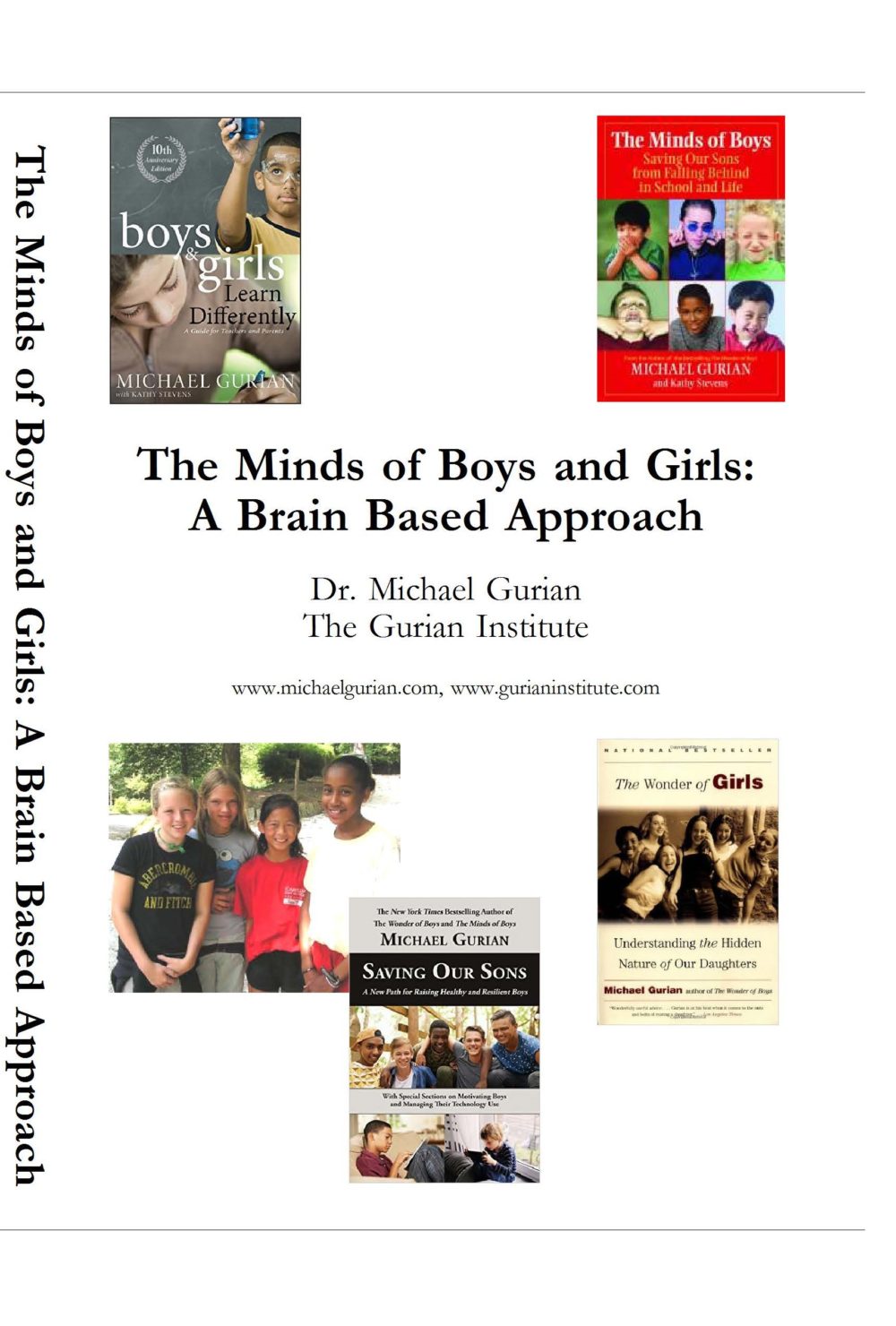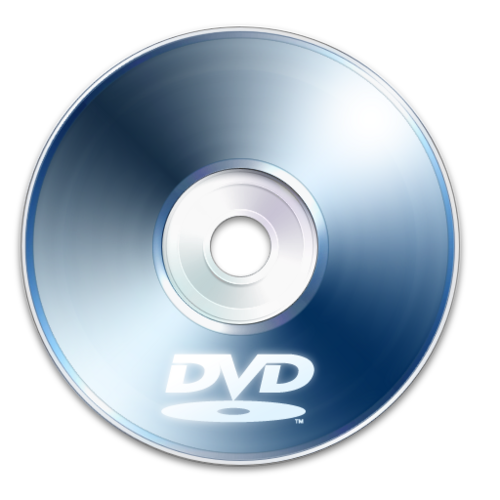 THE MINDS OF BOYS AND GIRLS: A BRAIN BASED APPROACH
2 DVD set (4 hour) course $149.00
4 hour audio course, $89.00
For twenty years, the Gurian Institute has been a pioneer in brain-based learning.  Specializing in brain science regarding gender difference, Dr. Gurian and his team have explored the effects of nature, nurture, and culture on educational and human systems development.  The Gurian Institute has trained more than 60,000 professionals and one million parents.  Success data from this work is available for review on www.gurianinstitute.com.
This four-hour DVD/Audio course, taught by Dr. Gurian, covers the learning needs of both boys and girls. It has been taped and filmed to be used in various professional development modalities and personal time-frames so that you will be able to adapt it to whatever is your preferred format.  It covers classrooms and child-development from kindergarten to college, providing educators and parents with theory and strategies for motivating and engaging both boys and girls, helping both genders with relational aggression and confusions, closing academic achievement gaps, improving grades and teacher quality, and handling crucial social issues between and among the genders.
2 DVD set (4 hour) course $149.00 plus shipping.  This is heavily discounted because we are beta-testing the course with you, the viewer.  We are in the process of creating a full digital curriculum (video, audio, and print manuals) for 2018 and, in keeping with our intention to provide what is most needed in schools and communities, we ask you to please write michaelgurian@comcast.net with your suggestions and feedback for the new course.
Stream the 4 hour MP3 audio course for $89.00 to your device.  This is the audio version of the video course and we welcome your feedback on it as well, especially any modalities you would like us to employ for future audio use.
michaelgurian@comcast.net
Paypal/credit card; or, send checks to The Gurian Institute, P.0. Box 8714, Spokane, WA 99203.
2 DVD set (4 hour) course $149.00
4 hour audio course, $89.00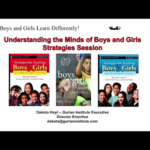 For a Separate Strategies Session Video with Dakota Hoyt, ED Emeritus of the Gurian Institute (1.5 hours), stream here for $89.00.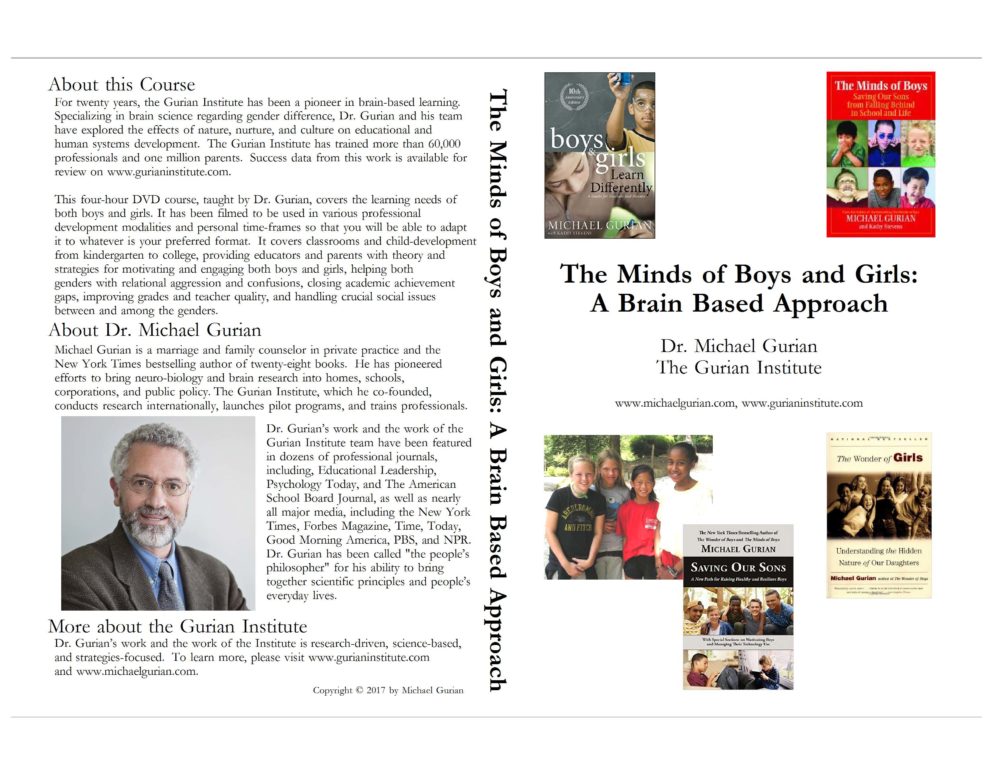 More about the Gurian Institute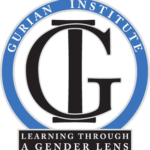 Dr. Gurian's work and the work of the Institute is research-driven, science-based, and strategies-focused.  To learn more, please visit www.gurianinstitute.com and www.michaelgurian.com.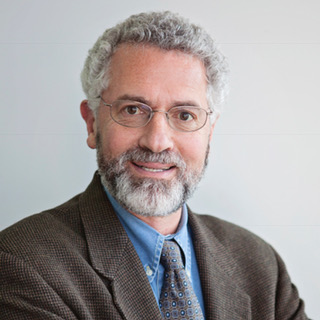 Michael Gurian is a marriage and family counselor in private practice and the New York Times bestselling author of twenty-eight books.  He has pioneered efforts to bring neuro-biology and brain research into homes, schools, corporations, and public policy. The Gurian Institute, which he co-founded, conducts research internationally, launches pilot programs, and trains professionals.  
Dr. Gurian's work and the work of the Gurian Institute team have been featured in dozens of professional journals, including, Educational Leadership, Psychology Today, and The American School Board Journal, as well as nearly all major media, including the New York Times, Forbes Magazine, Time, Today, Good Morning America, PBS, and NPR.  Dr. Gurian has been called "the people's philosopher" for his ability to bring together scientific principles and people's everyday lives.  
"Combines theory and practical suggestions in an effective, readable text. Recommended."
Library Talk
"Provides guidelines for brain-based innovations that will motivate and inspire everyone— teachers, parents, policymakers, and caretakers— interested in educating kids."
The African Sun Times
"Calls for many changes if we are to make schools the best that they can be."
American Secondary Education
"Guidance on how to create 'ultimate classrooms' at all grade levels."
Chicago Tribune
"From the beginning of time, parents and sensitive teachers have observed differences in the behavior, learning styles, and focused interests of girls and boys. Defying the political correctness that is today's common wisdom, Gurian and the contributing authors draw on emerging neuroscientific data to justify these perceptions. While never allowing us to lose sight of the reality of individual differences, they suggest creative ways to modify the learning environment to encourage a broader spectrum of achievement in both gender groups."
Edward Zigler
Sterling Professor of Psychology, Yale University, and one of the original planners of the national Head Start program.